It is the 35th day of the war in Ukraine. The 35th day of russia's crime against Ukrainian territorial integrity and independence.

Since World War II, the largest European military conflict has taken place physically directly on the battlefield and on multiple other levels: financial, mental, media, and cyberspace.

Thanks to the crypto community, close to $100 million in cryptocurrency donations have been raised since the beginning of the Russian invasion.

Ukraine has also proved that a cryptocurrency is an effective tool for mobilizing grassroots for issues outside the crypto world.


How cryptocurrency helps Ukraine
Source: Meta History Museum

Many texts have already been dedicated to this, so we will try to be short in this part.

Ukraine, the homeland of all Asquad teammates, is very open to cryptocurrency. Our government legalized crypto back in 2021 and ranked fourth on Chainanalysis' 2021 Global Crypto Index. That's why the crypto community couldn't stand behind at the critical moment.

Two days after russian troops invaded Ukraine, the Ukrainian government has officially opened the possibility to accept donations in cryptocurrency — BTC, ETH, and USDT.

Donations quickly came in from almost 46,000 people, and with the help of leading crypto figures, who publicly decried the russian invasion, famous blockchain enterprises, and anonymous cryptocurrency dealers, who made a significant financial contribution, the number of donations grew rapidly.

Ukraine raised about $42 million in cryptocurrency in less than six days of the war. On March 5, the amount was $56 million.


Source: 0xApes

Donations were made in 25 virtual currencies, including Bitcoin, Ethereum, Dogecoin, and TrueUSD. Kuna, a Ukrainian cryptocurrency exchange, is responsible for the technical side of the project, while the Ministry of Defense and the Ministry of Digital Transformation are the disposers of the funds.

In addition to well-known cryptocurrencies, Ukraine received donations in 100 obscure digital currencies. It is worth mentioning a new cryptocurrency called «Save Ukraine».

These funds were then used to help humanitarian organizations distribute aid in the country and buy necessary items for the soldiers, such as food, uniforms, body armor, and daily rations.

Not the least part of our struggle for independence is the NFT.

Trading platform NFT and In-game Metaverse items Dmarket froze all the accounts of users from Russia and Belarus and sent the funds (4.5 million dollars) to support the Ukrainian army.

Formed by activist Alena Shevchenko, digital artist group PleasrDAO, and russian punk music group Pussy Riot participant Nadya Tolokonnikova, Ukraine DAO also organized an NFT auction with a Ukrainian flag.


Ukraine DAO's 1/1 NFT of the Ukrainian flag

UkraineDAO has already received $5 million in donations, with $4.6 million coming via NFT purchases and another $450,000 coming from direct donations.

Meanwhile, Ukrainians also created an NFT-collection called «Bandera smoothie», named after the Ukrainian nationalist Stepan Bandera, whom an army led by Chechen leader Ramzan Kadyrov is so frantically trying to find.

Among all the great projects, these two are worth special mentioning:


NFT-museum of War, which combines blockchain technology, art, and fixation of historical facts.
The NFT campaign is called «Indestructible Donation»: 40 NFTS document Ukrainian cities, culture, and heritage, perhaps in a form we will never see again.
Cryptocurrency VS traditional banking system

Since the government limited the ability to send or receive payments by instituting martial law on February 24, when the russian invasion started, cryptocurrency has been the best option for Ukrainians to donate. The fastest and easiest way to donate, to be exact.

Bank transfers validation between two countries might take up to 24 hours. On the other hand, cryptocurrency transactions require less time because organizations don't need to waste time opening a bank account and verifying.

Crypto evangelists also state cryptocurrency allows Ukraine to raise money without the restrictions imposed by state bureaucracy or centralized Silicon Valley technology platforms. It also provides more flexibility about how the money is being spent. For example, GoFundMe and Patreon, which lets fans pay creators, prohibit military fundraising. Patreon even removed the Ukrainian NGO «Come Back Alive» page because it violated company policy.

The absence of intermediaries also helps raise a significant amount, as there is no commission on transfers. If you have the charity's address, you can simply enter the address, enter the amount of crypto you'd like to send, and tap send.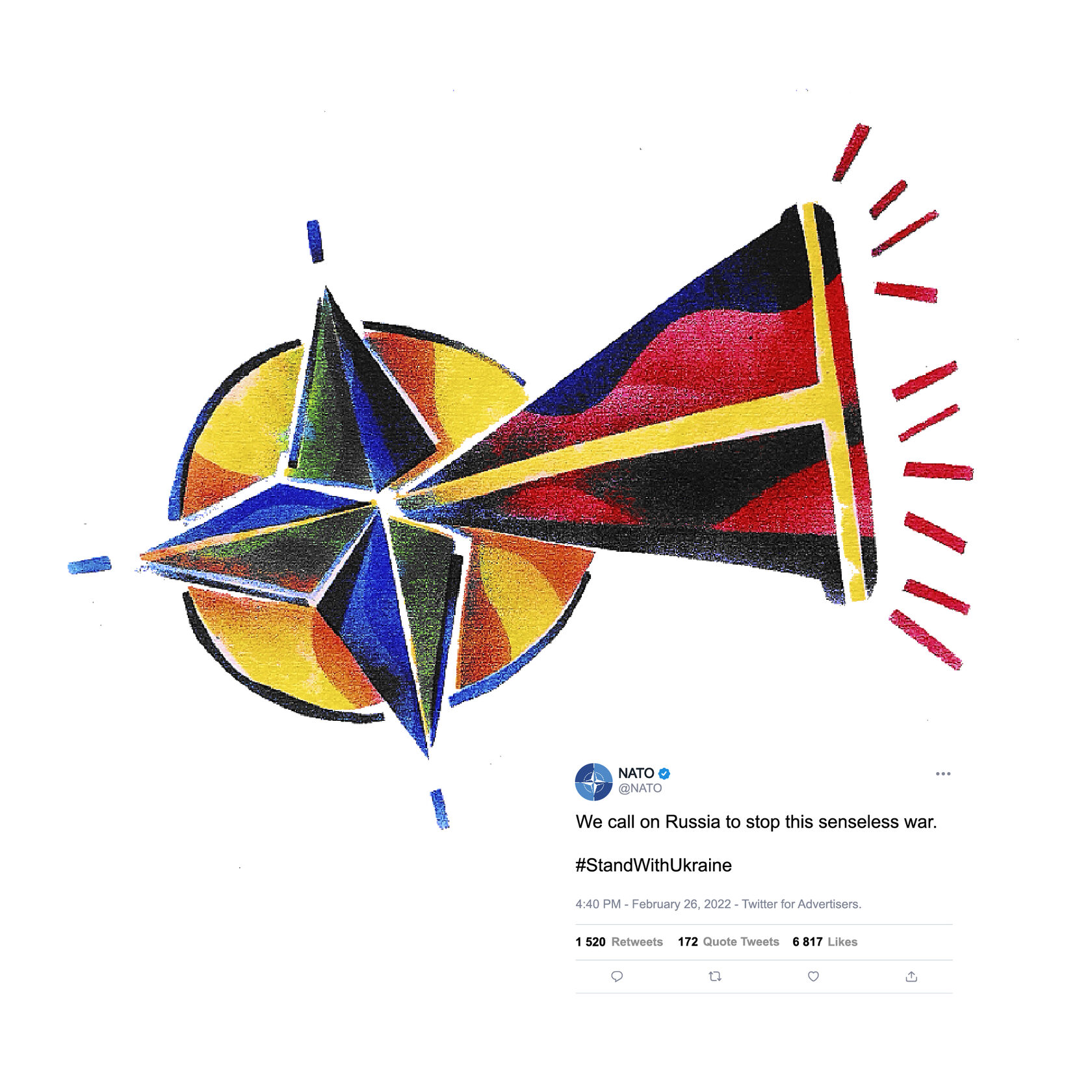 Source: Meta History Museum

Cryptocurrency donations are also less influenced by geopolitical or macroeconomic factors. According to Mikhail Chobanyan, ideologist of the Ukrainian cryptocurrency market and creator of the Kuna exchange, the value of the Ukrainian hryvnia has depreciated as a result of inflation.

An extra advantage of donating in cryptocurrencies is transparency. Although every transaction on the blockchain can be traced, users don't have to report who they are and why they transfer the money. This is especially important for volunteers collecting donations for the military, as some financial institutions may equate their actions with support for violence.

With so much support in the crypto universe, crypto and NFT have become modern war bonds. And for Ukraine, which legalized the cryptocurrency sector on March 17, it's a turning point for attracting investors and pouring money over.


Instead of the conclusion

You can support Ukraine right away. Every donation matters.

Ukrainian Government crypto addresses:


BTC: 357a3So9CbsNfBBgFYACGvxxS6tMaDoa1P
ETH: 0x165CD37b4C644C2921454429E7F9358d18A45e14
USDT: TEFccmfQ38cZS1DTZVhsxKVDckA8Y6VfCy
$DOT: 1x8aa2N2Ar9SQweJv9vsuZn3WYDHu7gMQu1RePjZuBe33Hv

Come Back Alive crypto addresses:


BTC: bc1qkd5az2ml7dk5j5h672yhxmhmxe9tuf97j39fm6
ETH: 0x93Bda139023d582C19D70F55561f232D3CA6a54c and 0xa1b1bbB8070Df2450810b8eB2425D543cfCeF79b
Solana Wallet: 8icxpGYCoR8SRKqLYsSarcAjBjBPuXAuHkeJjJx5ju7a
trc20 Wallet: TX9aNri16bSxVYi6oMnKDj5RMKAMBXWzon